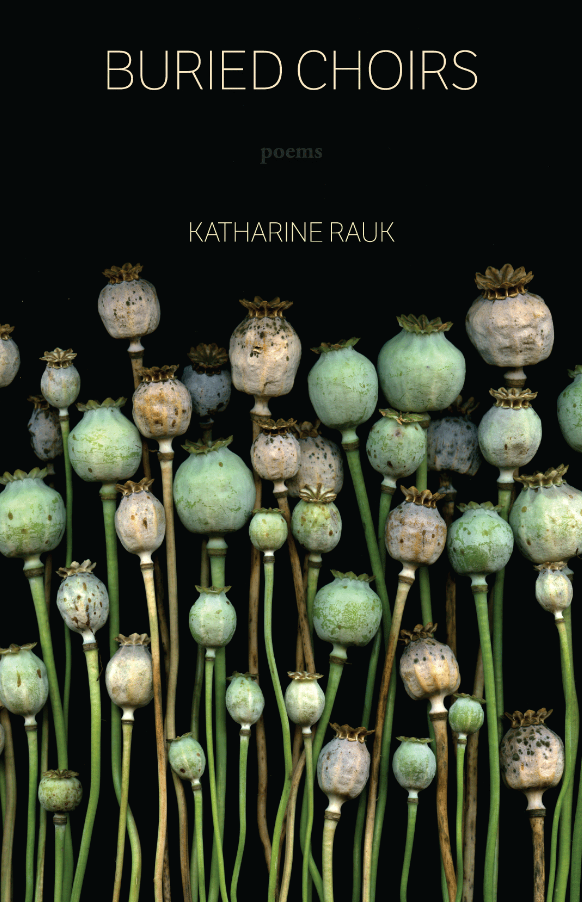 Buried Choirs
SKU 978-1-943981-02-1
Product Details
ISBN: 978-1-943981-02-1 | Price: $15.00 | TBD pgs. | 8.5 x 5.5 inches | perfect bound
THE BOOK: In Buried Choirs, Katharine Rauk invites us into a landscape of sea glass, licorice wheels, and coins kept beneath the tongue. Her lines turn and break in surprising ways, sometimes unsettlingly so; these poems might be absolutely true at the same time they are delectable lies. Nevertheless, this collection is driven by a restless hunger to connect—with the dead, an imaginary friend, a lover— whoever or whatever might be just beyond reach.

ADVANCE PRAISE:
Katharine Rauk's poems represent the lyric in action: a gutsy engagement in self-composition, world-building, cosmos-reaming that is as audacious as it is gorgeous. Night is a "klepto surgeon," whose pockets must be ransacked to get her good days back, and—in a masterful riff—God's crotch is "a vacancy / sign at some roadside motel / where I check myself in / on nights the moon / is an icy highball / sailing me into the sound / the semis make going down on / Hwy 53…" Her speaker's relationship with the reader / lover is all action / repulsion, hide and seek, playful, erotic, and always on the verge of the Big Bang. Rauk's imagination is an enormous dream gumball machine: Slide in a quarter and you'll get more than you bargained for.
—Diane Seuss, author of Four-legged Girl, finalist for the Pultizer Prize
"What the heart wants / is not so much / what it sees / as what it invents." My heart cleaved immediately to these poems, which are scintillating with invention. Even when striking grave or sorrowful notes, their cascading images made me giddy. Reading these poems is like suddenly being able to fly! Such delight and surprise! Such deft vacillation between fact and fancy! Such pleasure in the range of manifestations of this poet's imagination. Other ways of being, other knowledges and logics are constantly proposed, interpenetrating. Rauk's is a lovely, original, vivid, self-effacing voice: mysterious and passionate in just the right measure.
—Amy Gerstler, author of Scattered at Sea
Katharine Rauk's poem are the very definition of delight. She possesses the gift of lyric tension and surprise. Each line break held a leap I didn't see coming, from postage stamps crying out to be kissed, to joyriding storms, to a book of feathers opening over a river. These poems are forays into joys, especially the joy of language itself—that miscreant creator, that panhandling heart whose song will not spare you.
—Traci Brimhall, author of Saudade and Our Lady of the Ruins
Save this product for later